Michael Palin backs Belfast to Derry rail line upgrade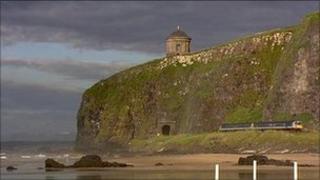 Michael Palin has supported calls for the government to upgrade the Belfast to Londonderry railway line.
Some passengers using the line are to be taken by bus between Coleraine and Derry for up to two years because of concerns over safety.
A complete refurbishment of the track has been put back for at least five years.
Mr Palin has previously described the route as one of the most beautiful rail journeys in the world.
He made those comments when he travelled it on a steam train for his BBC series Great Railway Journeys - From Derry to Kerry.
The Monty Python star said it would be "very sad" if the line was diminished during Derry's year as UK City of Culture in 2013.
"Certainly as a tourist attraction, and to help tourism, I would think it is absolutely vital, because I think it is the most beautiful line and a wonderful way of seeing the Northern Irish coast," he added.
"I would support it (an upgrade) because it is very sad when you close any line anywhere and I think that railways that are well run will generate passengers.
"Given the confidence of an upgrade that would generate more passengers.
"I would appeal to whoever makes these decisions to find the money from somewhere."
Translink has said it is committed to developing the route.
It had hoped to begin work on completely relaying the Derry to Coleraine line in 2012 but the £75m needed is not currently available. The completion date has now slipped to 2016/17.
In the meantime, it plans to carry out some essential safety improvement work on the line which will cost about £4m.
Northern Ireland Regional Development Minister Danny Kennedy has said he is "committed" to upgrading the rail line and has no plans to allow the service to close.