Mark McGovern's sister criticises 96-week ban given to player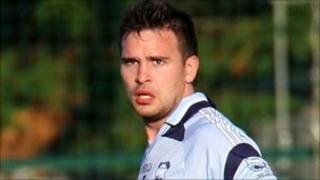 The sister of a Fermanagh GAA player who spent over a month in a coma has criticised the length of the ban given to the man accused of being involved in the incident.
Mark McGovern from Belcoo, was playing for Ulster San Francisco when he was injured during the game with San Francisco Celts in June.
Patrick Power was given a 96-week suspension by the San Francisco GAA Competition Control Committee.
The family may appeal the ban.
Grace McGovern said: "Obviously as a family we were very disappointed that he didn't get a life ban.
"We've spoken to the San Francisco GAA Competition Control Committee that was formed for the investigation and they have been very co-operative with us and we're very grateful of the help and the support that they have given us.
"The 96-week ban we were disappointed in, but it is something that we are looking into at the minute to see if we could maybe get it over-ruled."
The San Francisco GAA Competition Control Committee said Mr Power had received the maximum penalty allowed under the rule that the player was deemed to have violated.
Ms McGovern said the family did not know much about GAA rules and were seeking advice before deciding to take further action.
Mr McGovern's parents and three sisters maintained a vigil at his hospital bedside during the five-week period he was in a coma.
Mark finally came out of a coma on 3 August and Grace said he was "doing great".
"He's coming on leaps and bounds, he is defying all the doctors and nurses," she said.
'Inspiration'
"Yesterday I was speaking to the physiotherapist and she said that she has been a therapist for 18 years and Mark's recovery is nothing but miraculous.
"Mark is just an inspiration. He obviously has a long road to go, but at the minute we're just glad that we've got our Mark with us."
Ms McGovern said a lot of fundraising efforts were helping the family to cope with Mark's medical and rehabilitation costs in the US, which have so far, exceeded $1m.
The Mark McGovern Rehabilitation Fundraising Committee was recently formed to raise funds.
"It is not just in San Francisco, at home, in other parts of America, it has even stretched to Hong Kong.
"I can't even express in words how thankful we are of the support, the prayers, the thoughts, the time and effort that people have put in.
"We will never know how we will repay all these people."
The family have also received a lot of support from the village of Belcoo.
"Home is where the heart is," said Ms McGovern.
"Between our friends, Mark's friends and also from people we don't even know.
"I have had more messages on Facebook and emails from people I don't even know who are coming together to help, and it is so great to see a community coming together and to know that good things come from bad things."