Architect attacked waitress over cup of tea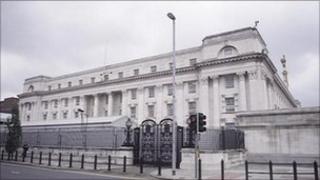 An architect pulled a waitress across a cafe counter and seized a knife after being asked to pay for a cup of tea, the High Court heard on Wednesday.
Adrian Donnelly, 45, from Desertmartin, Magherafelt, later claimed to have no memory of what happened.
Prosecutors said he admitted offences of indecent assault and possession of an offensive weapon after details were outlined to him.
He was refused bail over concerns he would not comply with conditions.
A crown lawyer said the alleged offences were committed in March at a cafe in Cookstown, County Tyrone, which cannot be named for legal reasons.
She told the court Mr Donnelly ordered tea, but grabbed the staff member when she asked for payment.
It was claimed that he pulled her towards him and then lifted a knife from behind the counter.
According to the prosecution he waived the weapon about in a slashing motion.
He is also alleged to have made suggestive remarks during the incident.
Following his arrest Mr Donnelly said he had been drinking before the incident and could not recall it.
Seeking bail, his barrister said he had pleaded guilty to the two offences and was due to be sentenced.
She told the court he had enjoyed a successful career as an architect "before alcohol sadly took a hold".
Refusing bail, the judge pointed to previous breaches of bail and added: "There is no expectation that he will actually comply with bail conditions."