Safety fears blow for Belfast to Derry rail route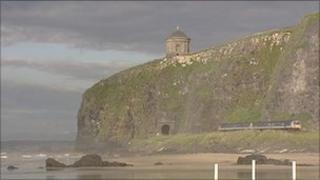 The BBC has learned that some passengers using the Belfast to Londonderry railway line are to be taken by bus between Coleraine and Derry for up to two years because of concerns over safety.
The disruption will affect a third of trains using the inter-city route.
A complete refurbishment of the track between Derry and Coleraine has also been put back for at least five years.
Translink said it was committed to developing the route.
Completion date slipped
It means that the direct rail service between Northern Ireland's two largest cities will be diminished during part or all of Derry's year as UK City of Culture in 2013.
Translink had hoped to begin work on completely relaying the Derry to Coleraine line in 2012 but the £75m needed is not currently available. The completion date has now slipped to 2016/17.
In the meantime, it plans to carry out some essential safety improvement work on the line which will cost about £4m.
While this work is going on, Translink says it has "no alternative but to reduce the frequency of train services in order to maintain safety standards. "
As a result, passengers on a third of the trains running between Northern Ireland's two main cities will be bussed between Derry and Coleraine.
This will affect three out of the nine trains that run in each direction every week day.
Translink says it will be putting on more buses each day between Derry and Coleraine which will more than compensate for the reduction of trains services on the line.
Through trains still using the Coleraine to Derry section of the track will face even further delays on top of the 20 and five mph speed limits that already exist.
Speed restrictions
"There will be further speed restrictions imposed on the line resulting from the condition of the tracks plus the safety improvement work," a Translink spokesperson said.
The maintenance work and the bussing of passengers is expected to begin early next year and will last for between 18 and 24 months.
Rail campaigners who support strengthening the Londonderry to Belfast link will be concerned at the loss of rail traffic on the route.
Translink says it is "very much committed to developing the Londonderry line and wants to attract even more people to use both train and bus in the area. "
The company says the introduction of an integrated hourly coach and rail service between Coleraine and Derry throughout the day will sustain passenger numbers using public transport.
A spokesperson added that once the safety improvement works have been completed "we would hope to reinstate some rail services with a view to introducing enhanced services when the full relay is completed possibly in 2016/17."