Permanent ban for hare coursing in Northern Ireland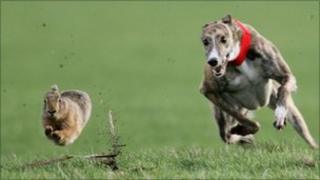 A permanent ban on hare coursing is to come into into effect on Wednesday.
The environment minister announced new legislation banning the practice from 17 August.
Hare coursing is the pursuit of a hare by a pair of hunting dogs, often greyhounds, and is common in rural Northern Ireland.
Critics have consistently argued against the cruelty of the sport and it has been illegal on a temporary basis for a number of years.
But now the ban is permanent and makes it an offence to organise, participate or attend a hare coursing event.
Environment Minister Alex Attwood was pleased to see the law formalised.
"Hare coursing events should not take place in a modern, progressive, civilised society. We all have a responsibility to protect our wildlife and certainly I want to do everything in my power to do that," he said.
"While hare coursing events in Northern Ireland have been prevented for a number of years on a temporary basis, the ban I am introducing is a permanent one and a positive step forward."
The new legislation is part of the Wildlife and Natural Environment Act, which will become law on 17 August as well.
The Countryside Alliance, which champions rural sports, last year promised to challenge the legislation as it made its way through the assembly.