Rock and rap royalty Belfast bound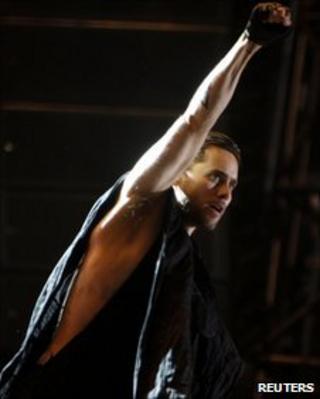 If your idea of a summer music festival doesn't involve a muddy field or having to set up camp in one, then this week in Belfast may be your cup of tea.
The skateboarders have been expelled from Custom House Square and it has been transformed into a concert venue for Belsonic 2011.
Since its inception in 2008, it has grown from a three-day event to nine days, attracting some of the biggest names in music.
In 2010, 40,000 people descended on Belfast across the nine-day event, with sell-out shows from Florence and the Machine, Biffy Clyro and Paulo Nutini.
This year's line-up promises to be just as good, with a sold-out performance by Thirty Seconds to Mars kicking off proceedings on Tuesday.
Winners of multiple MTV and Kerrang Awards, it is the band's first visit to Belfast.
Beady Eye, fronted by ex-Oasis lead singer Liam Gallagher, will be headlining on Saturday night, and the notorious frontman is looking forward to it.
"The people in Northern Ireland are always so up for it - they just get it," he said.
"It's like they know something nobody else does.
"But we've never played a festival in Belfast, so I can't wait for this Belsonic thing. It's about time I played an outdoor gig in the city, long overdue."
Bonkers
It has been 20 years since Indie legends Primal Scream broke into the mainstream with their album Screamadelica.
So, if like many others you have the CD in your collection, the Glaswegian band, who have sold 10 million albums, will perform the album in its entirety.
Returning to the Belsonic stage on Wednesday is Brit award and Mercury Music Prize winning rapper Dizzee Rascal.
The "Bonkers" rapper will be headlining at Belsonic for the second time, first appearing back in 2009.
And one of the past year's biggest stars is also Belfast-bound.
Plan B won Best British Male at the Brit Awards in February. His second album, the Defamation of Strickland Banks, entered the charts at number one and has performed with the likes of Noel Gallagher and Elton John.
The other headline acts rounding out the Belsonic line-up are Tinie Tempah, Elbow, Tiesto and The Specials.
Belsonic 2011 runs for nine nights with the first concert on 16 August and the last on 27 August.
Some tickets are still available and can be purchased from Ticketmaster or the Stiff Kitten. For more information go to the Belsonic website.