Bus crash: 'We must have had a guardian angel'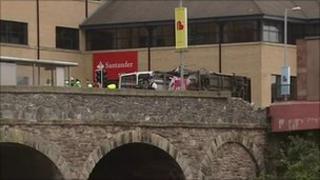 That no one was seriously injured when a bus toppled in Belfast City Centre is verging on the miraculous.
But that does not mean it wasn't a terrifying ordeal for some of the passengers who were on the bus.
Anja Schoeppe was on the bus with her boyfriend Patrick. She told BBC Radio Ulster about just how lucky she felt afterwards.
"I'm pretty well bruised, it was quite painful. But it could have been much worse," she said.
"I think we all had a guardian angel yesterday.
"My right side, the side that I fell on, is completely bruised from head to toe. It's completely blue. I have a cut on my head that had to be stapled in the hospital."
And only when she got home did the seriousness of the accident really sink in.
"When we saw the pictures last night when we came home after the hospital we realised how close we were to that bridge. It was even more scary," said Anja.
"In the moment - we were on the top floor of the bus so we fell all the way down - you didn't realise what happened because it happened so quickly. I can't remember much of what happened.
"I can only remember my boyfriend telling me 'we have to get out of here' and he made me get out. I would probably have panicked without him.
"We had been on the bus for about 10 minutes going towards Central Station. It was going towards the stop past Central Station, it wasn't going particularly fast.
"I don't know what happened. It obviously hit the wall but how it toppled to that extent I can't say. All I remember is the bus starting to fall and people starting to scream.
"We just saw the ground coming closer to the window. It was scary."