Tyrone farmer bids to save lonely corncrake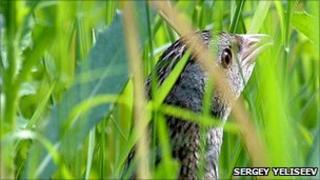 The continuous rasping call of the corncrake was once a familiar sound up and down the country.
The bird used to keep people awake as the male sang throughout the night in an attempt to woo a mate.
The last regular breeding birds in Northern Ireland were recorded in 1994 in Fermanagh.
There was great surprise then, back in June, when a corncrake could be heard just outside the Tyrone village of Benburb.
Local farmer Jody McGrath was so taken by his plight that he decided to let the land lie by delaying mowing operations on his farm.
Mr McGrath said he could hear the solitary male calling "all night, every night".
"Neighbours three and four miles away were saying they could hear it.
'Calling for partner'
"It sounds like its name. Crake, crake, that's the sound it makes."
He said only male corncrakes called and this one "was calling for a partner, a girl-friend".
"And he hasn't been successful obviously, because he is still calling."
Corncrakes, which nest on the ground, have been decimated in recent years by farm machinery.
"We didn't mow the silage, we just left the field growing grass to keep the bird happy in the field," he said.
"When people started making silage instead of hay, the silage is mowed earlier and the birds haven't had a chance to get out of the field."
While the lonely bird has been so far unsuccessful in attracting a mate, it is certainly attracting a fair share of human interest.
"Most evenings there are one or two cars here, with people listening to it," Mr McGrath said.
"People came from Fermanagh and Antrim just to hear it.
"Older people heard it in their youth and, I suppose, they want to hear it again."