Last NI death sentence man Holden bids to clear name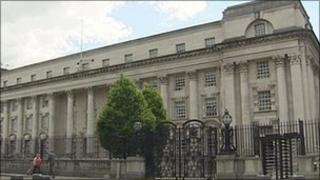 The last man sentenced to death in Northern Ireland is to gain further access to a secret dossier, the Appeal Court in Belfast has ruled.
The move is part of a legal bid by Liam Holden, from Ballymurphy, west Belfast, to overturn his conviction for murder.
The Lord Chief Justice said the first 28 paragraphs of a confidential annex should be disclosed to Mr Holden.
Holden claims water torture was used to extract a confession for the murder of a British soldier 40 years ago.
He was to be executed after being found guilty of shooting Private Frank Bell in September 1972.
Although the death penalty was abolished in Britain in 1969, it remained in Northern Ireland until 1973.
Holden's death sentence, however, was commuted to life imprisonment and he served 17 years in jail before applying to an independent body set up to examine alleged miscarriages of justice.
New evidence
The Criminal Cases Review Commission (CCRC) referred his conviction back to the Court of Appeal on the basis that it may have been unsafe.
The move followed an examination of new evidence and the admissibility and reliability of confessions in the case.
Last year the Ministry of Defence agreed to disclose three secret documents to Holden after reviewing their classification.
His lawyers urged senior judges to grant access to the rest of the dossier held on him.
In his judgment Lord Chief Justice Sir Declan Morgan, sitting with Lord Justice Coghlin, set out how Holden was seeking disclosure of 15 items of sensitive material made available to the CCRC on a confidential basis.
Some of that information forms the basis for conclusions reached by the commission that the murder conviction may be unsafe.
'Sensitive material'
Sir Declan said: "We have carefully considered the entirety of the confidential information.
"In respect of the issues surrounding the admissibility of the appellant's alleged confessions, we are satisfied that the documents which have now been disclosed comprise all of the relevant material within the sensitive material made available to the CCRC.
"We also consider that the first 28 paragraphs of the confidential annex made available to us by the CCRC, which sets out the reasons for the conclusions reached... should now be made available to the appellant.
"We do not consider that any further disclosure is required."
Acknowledging the continuing obligation for disclosure throughout any criminal trial and appeal , Sir Declan added that the determination may have to be reviewed if any further issues emerge.
Following the ruling, Mr Holden's lawyer, Patricia Coyle, said: "While this partial access is not ideal we will consider this material when received and prepare the next stage of the case."