Veteran Belfast journalist James Kelly dies aged 100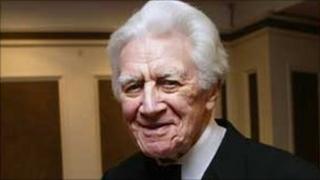 James Kelly, the veteran Belfast journalist, has died shortly after celebrating his 100th birthday.
Mr Kelly, who was born in the Falls Road area in 1911, was regarded as the father of journalism in Northern Ireland. He passed away on Wednesday.
He had his final opinion piece published in the Irish News on his birthday on 14 May this year.
In a recent interview, he recalled visiting Dublin as a young boy in the aftermath of the 1916 Easter Rising.
He went on to cover the most significant moments in Northern Ireland's history, from the Belfast blitz to the Good Friday Agreement.
Asked if he 'felt his age' he replied: "No. I think some terrible mistake has been made.
"I should be dottery, but living with a family - it's marvellous. They have looked after me so well."
Deputy First Minister Martin McGuinness paid tribute to the journalist.
"Over the years I met James Kelly on many occasions.
"As well as his longevity, filing his last copy on his 100th birthday, James Kelly will be remembered as a journalist with great integrity and decency.
"He represented a journalistic standard that is a benchmark for others to aspire to. I would wish to send my condolences to the Kelly family at this sad time."
Former SDLP assembly member Carmel Hanna added: "Jimmy was an unswerving and principled democratic Irish nationalist."
She said his "life view of the futility and immorality of violence for political purposes was shaped at first hand by his experience of the suffering of shell-shocked World War One veterans and the victims of the Belfast pogroms in the early 1920s".
Irish News editor Noel Doran said: "He was an outstanding reporter and someone who did not just report on events, but almost became part of them, who knew everybody and everything, just someone whose like you will not see again."
Mr Kelly is survived by three daughters and was predeceased by his wife Eileen.