Lagmore shooting: 14-year-old remanded in custody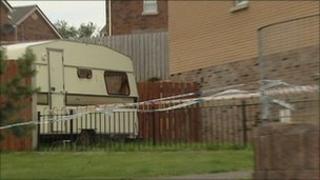 A 14-year-old boy has been remanded in custody charged with attempted murder.
It follows an incident on Monday when a man was shot in the ankle when four men burst into his caravan in the Lagmore area on the outskirts of west Belfast.
Thomas Dundon, 49, with an address in the Hazelbank area, was also charged with the murder attempt.
Another two men, aged 19 and 20, have now been charged with the attempted murder and are to appear in court on Thursday.
A PSNI officer told Wednesday's court hearing that police believe a person who fired a shot during the attack, and who was wearing a balaclava, was the 14 year-old boy.
However, the defence said a description of the attacker given by the police did not match the schoolboy.
Lisburn Magistrates Court was told that the teenager needed to be remanded in custody for his own safety because of a feud in the travelling community.
Applying for bail, the defence said an address could be provided for the boy well away from the travelling community.
However, the police said the boy was "vulnerable" and could be persuaded to join in "the escalating feud".
Both of the accused have also been charged with criminal damage and possession of an offensive weapon.
Six guns and a number of bullets were found on Tuesday by police investigating the shooting, which happened at Hazel View.
Two guns were found during searches in the White Rise area of Lagmore on Tuesday afternoon, as well as weapons including machetes and blades.
Four guns, including a machine-gun, were later found in an out-house at Budore Road.