PSNI offer Land Rover help over London riots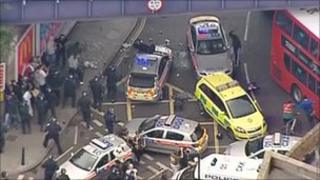 The PSNI are offering a number of Land Rovers to help colleagues in England deal with rioting.
In a statement the PSNI said they could not provide any officers, but were reviewing other ways to offer support.
They said UK forces had been contacted by the Police National Information Co-ordination Centre (PNICC) to see what resources they could offer.
The police would not say how many Land Rovers had been offered.
"We are currently reviewing how and where we may be able to provide support to our colleagues in line with their requests," the PSNI said.
"At this stage, due to operational commitments, we are unable to provide any officers."
Sixteen thousand officers will police London's streets on Tuesday night in a bid to prevent a fourth night of rioting.
So far 563 people have been arrested and 105 charged in connection with violence in the capital.
The violence has also spread to other cities, including Birmingham, Bristol and Liverpool.