18% rise in personal insolvencies in Northern Ireland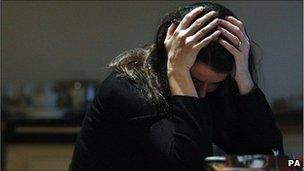 Personal insolvencies in Northern Ireland have hit a new record high in the second quarter of this year.
A total of 752 people were made insolvent between April and June, a rise of 18% on the same period last year.
The figure includes those who have been made bankrupt and others with Individual Voluntary Arrangements.
The trend contrasts sharply with the rest of the UK where the numbers are down.
In England and Wales, the number of individual insolvencies fell 12% in the period and there was a slight fall in Scotland too.
BBC NI Economics and Business EditorJim Fitzpatrick said the number of company liquidations in Northern Ireland was down 21% on the same period last year.
"The fact that personal insolvencies here are still climbing adds to the picture of Northern Ireland's economy travelling slower, if not in the opposite direction to the rest of the UK," he added.
"Although company liquidations are down, the first half of 2011 has seen more companies go bust than the second half of 2010 suggesting the trend is not convincingly downwards."