Man rescued after falling from boat on River Bann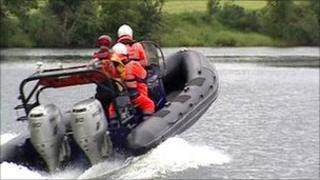 A man in his twenties has been rescued after he fell from a chartered boat on the River Bann between Portglenone and Newferry.
Two police helicopters assisted in the rescue operation after the man fell overboard at 22:55 BST on Saturday evening.
The man was found on the shore and given first aid on the scene.
He was taken to hospital by helicopter but has since returned home.
The matter is being investigated by the Health and Safety Executive.
Sean McCarry from the community rescue service helped in the search.
He said he was unsure "how the man in question managed to end up in the water".
"I believe there was an organised boat trip and there were 66 passengers on board," he added.
"Our boat crews and teams on the ground started searching the river bank and were joined by the two police helicopters. Very shortly after the person was located."