Debt - the problem at the heart of the NI economy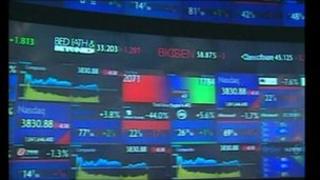 Shopping is what drives the economy but apparently we're not consuming enough.
If you're one of those people who has been good enough to reduce your spending on the plastic recently, you might be surprised to learn that your debt bill is bigger than ever.
You may have stopped spending but the government has been on a spending spree with your money - with everyone's money.
Among the results of that spending spree are a variety of assets.
Scrubland
For example, the biggest banking group in Northern Ireland, Ulster Bank. Owning a bank sounds nice until you hear that Ulster announced half-year losses on Friday of £566m.
And because we own Ulster, we also own the biggest outlet retail park in Ireland.
The developer could no longer afford it, so the bank took the £70m centre off his hands and into ours.
We also own the site of the Sirrocco works in Belfast. It's a piece of scrubland at the moment but it came with a £40m price tag.
We own these things because of the bank bailout - UK taxpayers own 84% of Ulster Bank's parent group RBS.
That government spending spree took place not just here but across the UK and across the world.
And that's what is now threatening our fragile economic recovery.
Stock markets are failing because investors think countries are too debt ridden to grow.
Rebalancing
In Northern Ireland, our only growing firms have been ones that export like Belfast packaging company, Delta Print.
Its boss thinks local politicians need to have the power to cut business tax.
"This would achieve two things," Terry Cross said.
"It would give a real boost to foreign direct investment and to indigenous business.
"In the process it would help rebalance the economy in a positive way from the public sector overdependence into private sector opportunity."
Delta Print is doing fine at present but, according to some the UK government may need to do less cutting and more spending in order to avoid another recession.
"The demand side of the UK economy has collapsed totally," said Northern Bank chief economist, Angela McGowan.
"We're looking at consumption levels from spending back to what it was in the early 1980s, really, really low.
"I think you definitely need some sort of stimulus because you cannot manage to get your deficit down unless you have some growth in your economy."