Belfast footballer who was at 1936 Olympics in Berlin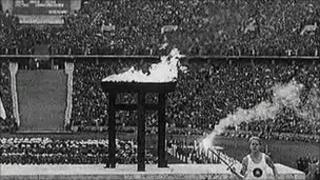 Earlier this year, Northern Ireland joined Scotland and Wales in reacting angrily to claims their players could take part in a united Great Britain football team at the London Olympics in 2012.
But in 1936 things were different and the family of one former Belfast Celtic footballer has the evidence to prove it.
At the Berlin games, US athlete Jesse Owens scooped four golds to the consternation of German dictator Adolf Hitler.
Meanwhile, Bertie Fulton was becoming the first Northern Ireland footballer to play at the Olympics.
He joined Cliftonville FC's Jimmy Gibb (a stand-by for the team) for the trip to Germany, having previously turned down Manchester United to retain his status as an amateur.
"He definitely saw Hitler, I don't know whether that was a great experience but he was in the same stadum as Jesse Owens," Bertie's son Danny said.
"I suppose if he had signed for Manchester United, that wouldn't have happened.
"Nowadays the professionals, like the American basketball team, can go to the Olympics, but he remained an amateur and that's why he got that privilege and thrill to play in Berlin at the 1936 Olympics."
Bertie died 32 years ago, but the official handbook given to each member of the Great Britain football squad provides an insight to another era.
The players arrived in Germany after two days of travelling by plane and train, and it was suggested that each of them bring their own toilet soap. Stockings, knickers and shorts would be provided.
The games themselves ended in disappointment for Bertie and his teammates as they were defeated 5-4 in the quarter-finals of the competition by Poland.
Danny Fulton said his father disliked losing and carried one particular regret with regard to the tournament.
"His big regret was that the Cliftonville goalkeeper Fred McCrory was not on that team," he added.
"He always maintained if Fred had been in goals they would have won at least a bronze medal, I don't think he was too happy with the English goalkeeper."
Although the Northern Ireland amateur international did not get a podium medal, he did receive a special memorial medallion along with the other participants.
This Fulton family heirloom has been passed down to Bertie's nine-year-old great-grandson Christopher, who maintains the footballing tradition as a member of the Manchester United school of excellence.