Donaldson wants death penalty restored for terrorists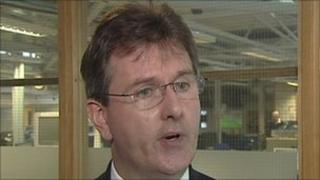 DUP MP Jeffrey Donaldson has said he would be in favour of restoring the death penalty in cases of terrorism.
MPs are expected to debate the possible restoration of the death penalty after more than 40 e-petitions supporting it were submitted to parliament.
It is part of the government's new online petition system.
Mr Donaldson said he believed that the subject of the death penalty should be re-opened to debate and that he would be in favour in certain cases
"We have stated consistently that in cases of terrorist murder, we believe that there should be the death penalty," he said.
"One of the reasons why I think it should be debated is because I want to hear the contrary arguments.
"We haven't as parliamentarians debated this issue now for 30 years.
"A lot has happened in that time, terrorism has become much more sophisticated, much more deadly and I think it is time parliament debated this issue again."
Under, the online petition system ideas gaining more than 100,000 signatures could lead to a full debate in the House of Commons.
Other petitions included banning smoking in prisons and leaving the European Union.