South Bank Square Ltd could build two hotels in Belfast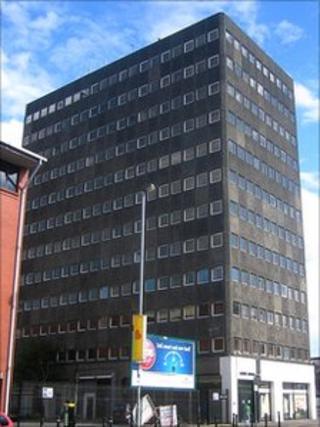 Plans for a major hotel development on the Dublin Road in Belfast could be revived after a County Londonderry businessman took over the project.
The Jermon property group had planned to build two hotels on a site currently occupied by the Fanum House office block as part of a wider transformation of the area.
However the site was placed into receivership last year.
Another company, South Bank Square Ltd, has bought the site.
It has lodged a fresh planning application for redevelopment
The company's sole director is Seamus Gillan who owns the Maghera firm BSG Civil Engineering.
It is understood he paid between £4m and £5m in a deal which was overseen by the Irish government's National Asset Management Agency (Nama).
Nama was set up as part of the response to the property and financial crisis.
Its job is to buy and manage property loans held by Dublin-based banks.
This was one of its first major deals in Northern Ireland.
Public plaza
South Bank Square Ltd's architects are Robinson McIlwaine (RMI), the same firm Jermon used for the project.
RMI's original design involved linking the Dublin Road to Great Victoria Street via a new public plaza.
It included two hotels, one fronting Great Victoria Street and the other on the Dublin Road.
The new planning application includes one hotel, but the BBC understands another application later in the summer will include the second hotel.
It is also understood a contract has been signed with the Accor Hotel Group for the operation of the hotels under the Novotel and Etap brands.
Etap is a budget brand while Novotel pitches at the mid-market.
Seamus Gillan's core business, BSG, mainly carries out engineering work for public sector clients like NI Water.
In 2009 the company made a pre-tax profit of £5.9m on turnover of £37m.