Lillis not sick enough for compassionate release: Ford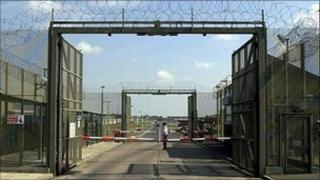 The justice minister has rejected calls for the release of a sick republican prisoner on compassionate and humanitarian grounds.
David Ford said he had reassurances from medical staff at Maghaberry that Brendan Lillis was receiving adequate care at the prison hospital.
Mr Ford met with the partner of Mr Lillis, who suffers from a severe arthritic condition, on Wednesday.
She has been campaigning for his release along with a number of MLAs.
Lillis was sentenced to life in prison in 1977 on explosives charges but was released on licence in 1993. It was revoked in 2009 after he was arrested on robbery charges.
The reason given was that he was "a danger to the public" and he was told he would have to serve the rest of his original life sentence at Maghaberry Prison.
'Exceptional Circumstances'
Mr Ford said he had taken "an active interest" in the case and had sought additional independent medical advice.
However, he said while it was within his power to free Lillis, he had been advised that there were not sufficient grounds for compassionate release.
"There have only been two cases in the last decade where those exceptional circumstances have been satisfied," he added.
"One prisoner was terminally ill and died shortly after release. The other had medical needs which could not be met in the prison hospital and was transferred to an outside hospital.
"Neither of those circumstances have been put to me by the people who advise me. And therefore as minister my decision has to be bound by the best professional advice I can be given."
Lillis's partner Roisin Lynch said his condition meant he was no longer a threat to the public. He weighs just five and a half stone and his spine is fused.
She rejected the suggestion he was receiving adequate care in jail.
"We're on the humanitarian side of this now. We're not talking about freeing Brendan Lillis, we are talking about saving Brendan Lillis," Ms Lynch added.
"My campaign has now changed focus, we are actually trying to save his life."
'Ludicrous'
Mr Ford said he "accepted what the family are saying".
"If the medical reports were that he would receive better treatment in an outside hospital then I would respond to that, but that is not the advice I am being given," he added.
The minister also rejected calls to visit Lillis in hospital.
"I am not a physician. I'm not psychiatrist. I rely on the professionals whose job it is to care for prisoners across the prison service to advice me on the needs of prisoners," he said.
"It is not my job to run around the country pretending to be a doctor."
He said he would continue to keep the matter under review.
Ms Lynch said Mr Ford's comments were "ludicrous" and she had evidence from doctors that Mr Lillis could die in prison.
Earlier this year, it was decided Lillis was too ill to stand trial, although he could face charges if his health improves.
On 19 July, the Prison Service said there were not sufficient grounds to justify his release on compassionate grounds.
The case was then passed for consideration by the parole commissioners. They also ruled that he should not be released.