David Ford meets partner of prisoner Brendan Lillis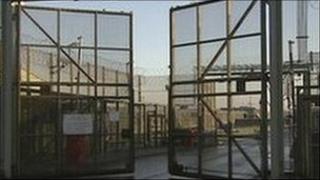 Justice Minister David Ford has met with Roisin Lynch, the partner of republican life sentence prisoner Brendan Lillis.
Lillis suffers from a severe arthritic condition.
Last week, parole commissioners ruled he would not be released on compassionate grounds.
Mr Ford said he would invite Mr Lillis's legal team to make further representations on the case for compassionate release.
Lillis was sentenced to life in 1977 on explosives charges but was released on licence in 1993. It was revoked in 2009 after he was re-arrested on robbery charges.
The reason given was that he was "a danger to the public" and he was told he would have to serve the rest of his original life sentence at Maghaberry Prison.
Earlier this year, it was decided Lillis was too ill to stand trial, although he could face charges if his health improves.
On 19 July, the Prison Service said there were not sufficient grounds to justify his release on compassionate grounds.
The case was then passed for consideration by the parole commissioners.
Mr Ford confirmed he has received advice on the issue of compassionate release for Mr Lillis.
'Compassionate grounds'
The minister told Ms Lynch that he was seeking additional independent medical advice and would invite Mr Lillis's legal team to make further representations on the case for compassionate release.
Mr Ford said: "I used today's meeting with Ms Lynch to explain the legal position in relation to the release of a prisoner on compassionate grounds and my role and responsibilities as justice minister.
"The department refers the cases of recalled life sentence prisoners to the independent parole commissioners who will direct the prisoner's release on licence if satisfied that the prisoner does not pose a risk of serious harm to the public.
"As with any life sentence prisoner who has been recalled to prison, Mr Lillis's case has been referred to the commissioners."
The minister also told Ms Lynch that he has been updated on Mr Lillis's medical condition and his current state of health.
"I am satisfied that the Northern Ireland Prison Service and its health care partners in the South Eastern Health and Social Care Trust are managing Mr Lillis's full health care needs," he said.
Ms Lynch was accompanied by MLAs Jennifer McCann of Sinn Fein and the SDLP's Colum Eastwood.
Mr Ford also met representatives of Cardinal Sean Brady on Wednesday.