£97m Titanic Belfast attraction takes shape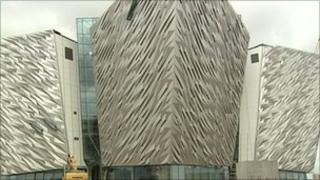 BBC Northern Ireland has been given a preview tour of the new £97m Titanic Belfast building.
The visitor attraction is due to open in eight months.
The building is in the same spot where the famous ship was built by Belfast shipbuilder Harland and Wolff 100 years ago.
From its windows visitors will look down on the drawing office, the dry dock and and the slipway.
The scale of the building will mimic the actual size of the ship.
Project Director Noel Molloy said it would look fantastic "no matter where you put it".
"But when you stand in the middle of the building, 100 feet in front of you - if you look out northwards - that's where the Titanic was built.
"One hundred feet to your right, that's the drawing office - that's where the Titanic was drawn.
"Out to your left is the River Lagan where the Titanic first set sail from and down to your south is where the workers came from every day."
The interior is a work in progress but it is already being marketed to corporate customers who may use the entertainment facilities.
For the visitors, genuine Harland and Wolff gates lead the way to galleries.
There will be nine of them, being fitted out at a cost of more than £1m each.
Tim Husbands, the chief executive of Titanic Belfast, said visitors would get a feel for the story of the Titanic.
"There's also a shipyard ride where they get onto a cart which takes about six minutes to run - it takes them through the senses of the shipyard, the smells, the sights, the sounds.
"So very much getting a feel for what it would have been like at that time."