Musical about Ulster's gay rugby team opens in Edinburgh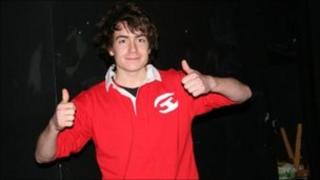 Meet the rugby team with a gay bar as their clubhouse and a drag queen as their manager...
A musical based on the true story of Northern Ireland's gay rugby team, the Ulster Titans is set to open at the Edinburgh Festival this week.
Scene of the Titans has been written by a former player on the team Tim Foley.
The club was founded in 2007 to give people the opportunity to play rugby despite their backgrounds.
The musical is set in Belfast's biggest gay club, The Kremlin when regular Terry proposes setting up a rugby team in order to impress a guy.
Original songs
The show follows Terry and his seven friends as they set up Northern Ireland's first gay rugby team in a bid to win an international competition in Dublin.
The show also features a number of original songs.
Mr Foley told BBC News about his experiences in the team and why he decided to write the musical.
"Being in the team was fantastic, I'd never met guys who did that before, it was like a community within a community," he said.
"There were a lot of jokes about being in a gay rugby team, but really it was just a bunch of rugby lads coming together. Being gay was in the background.
"My mum loves the team and my dad played sport so he was just happy I was playing."
Tim said his mum was happier that her son was playing in a gay rugby team because she thought he would be safer and wouldn't get hurt.
"That's completely not true, I think it's more violent," said Tim.
"Especially playing other teams that couldn't stand losing to a gay team so they were more aggressive. I had to give up due to injury, I was dropped on my head and suffered a rotator cuff injury."
Positive reaction
The musical previewed earlier this year at St Andrews University.
Mr Foley said the reaction had been largely positive partly due to the fact that it is based on a true story.
"Most people can't believe the story is true. They also can't believe I wrote the story and the songs, hopefully they will at least like one or the other," he said.
The Ulster Titans have also backed the show.
"A number of the players have contacted me, wondering what character is based on them. A few of them are going to try and come over and see the play," he said.
"I would love to bring the show back to its home in Belfast in the future."
The show has also received the support of former England Rugby International Ben Cohen who backed the show on social networking site twitter.
Scene of the Titans runs for 26 performances at C Venues as part of the Edinburgh Fringe Festival until 29 August 2011