Judge Barney McElholm bemoans influence of Ninja Turtles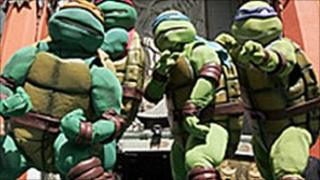 A drunken Londonderry man arrested last month while staggering along Rosemount Avenue holding a circular saw later put a police officer in a headlock.
Eamonn Coll, 22, from Inishowen Gardens, pleaded guilty at Londonderry Magistrates' Court to possessing the circular saw and assault.
He committed the offences on 14 July. Sentencing was adjourned.
District Judge Barney McElholm said too many young men were fascinated by martial arts "and by Ninja Turtles".
Coll also admitted possessing herbal cannabis, when three bags of the drug were found on him after his arrest.