Jimmy McIlroy to receive MBE at Burnley's Turf Moor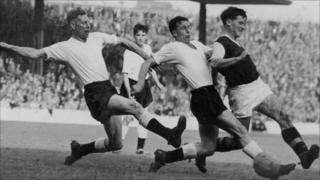 Most people would think it was fitting that a footballer known as the Prince of Inside Forwards would receive his MBE at Buckingham Palace.
But as Burnley legend Jimmy McIlroy approaches 80 years of age he has decided to turn heads with a neat body swerve one more time.
For instead of meeting royalty in London this Saturday, McIlroy will receive his honour at the Lancashire club's home ground, Turf Moor, from the Queen's representative in the county.
The ceremony will take place prior to Burnley's opening fixture of the season against Watford and the former Northern Ireland international outlined his reasons for giving the palace a bye-ball.
"It seems a long journey down to London and then from London up to the palace," he said.
"I was allowed three guests.
"Well I have three grandchildren, a son and a daughter and it would have started a war if I had attended.
"The former goalkeeper Harry Gregg rang me to say it would be the most boring day of my life, but then the former Belfast Telegraph Sports Editor Malcolm Brodie rang me to say it would be the best day of my life.
"When I look back I am just amazed at the way the people and the fans of Burnley have treated me and I want them to be a part of it, here is an honour and I want to share it with them."
Burnley have said they are "humbled" to get the chance to mark the latest achievement of the man who made nearly 500 appearances for the club and helped inspire them to their greatest triumph, the 1960 league championship.
He has the freedom of the borough and a stand at Turf Moor is named after him, so his credentials as a member of the Burnley empire are not in doubt.
'Heaven'
In 1950, as a teenager from Ballyskeagh in County Antrim, he joined the club for £8,000 following impressive performances with Irish League side Glentoran.
Ironically they could have purchased him for £10 if they had spotted his potential in a game a year earlier and McIlroy believes the signing may have been illegal as it happened on a Sunday morning.
"After a game with Glentoran, I went to the boxing at the Ulster Hall in Belfast on Saturday night and then got the last bus home," he said.
"As I walked from Lambeg to Ballyskeagh, one of my sisters met me on a bike and told me the people from Burnley were in the house wanting me to sign.
"So I grabbed the bike and by the time I got there it was after midnight, I gather it was illegal to sign on a Sunday in those days."
He admits to being taken aback by his surroundings when he first arrived in Burnley, but was soon won over by the people's warmth.
However, one encounter with a Burnley fan still sticks in the mind.
He said: "I remember one day I was at a bowling green with a friend just after I had joined and this old fella came closer to us and said 'I've been listening to you lads talking, you're Irish aren't you?'
"He said we have got a youngster at Turf Moor he's called McIlroy, we thought he was something special, but he is not going to make it."
McIlroy, named among the football league's top 100 players on its centenary, still speaks with fondness of his 13 years in claret and blue.
He picks out the league title win, which was secured at Manchester City, as particularly special.
"The journey back to Burnley from Manchester was unbelievable, we were all in heaven," he said.
"In the fifties and early sixties, Burnley had a team in which every player could have got his place on any team in England."
His acclaim at Burnley dovetailed with his significant contribution on the international front where he starred with the likes of Danny Blanchflower and Billy Bingham as Northern Ireland reached the 1958 World Cup quarter-finals in Sweden.
He was quick to hail the magnificent team spirit of that side which was fuelled by the passion of coach Peter Doherty.
"Northern Ireland had some outstanding players and Peter inspired us," he added.
"In fact when he gave a team talk before we went out if he had said to us 'will you strangle him?' I would have done it he had us worked up so much."
McIlroy is still baffled by his exit from Burnley in 1963, he was sold to Stoke City by the then chairman Bob Lord, a decision which still reverberates in the town.
"I remember the morning the manager Harry Potts told me he was putting me on the transfer list and I asked why?
"He said you haven't been turning it on these last couple of weeks, so I said 'why the blazes didn't you drop me?'
Lionel Messi
"He looked astonished and said 'don't be silly you don't drop players of your calibre'."
After Stoke, he had a spell in management under chairman Ken Bates at Oldham and then Bolton, but found it wasn't for him.
He is amazed at the thousands of pounds earned a week by today's footballers and highlighted Barcelona's Lionel Messi as one of the few whose skill provides a window on the past.
"I don't understand the game now, a team can make up to 20 passes and yet haven't gained a yard, sadly dribbling is a lost art," he said.
McIlroy made no more than £80 a week in his prime as a footballer and after that career finished he returned to his teenage trade as a bricklayer before serving as a journalist for many years.
Indeed, his pleasure in a job well done has never been far from his mind.
"I loved bricklaying, because I felt I was creating something," he said.
"I remember after an international game at Windsor Park in Belfast going on a bus past these houses that I had helped to build near the Finaghy area.
"I had this feeling of pride that these houses will still be standing long after I'm gone."