Cardinal in plea over GAA games clashing with Mass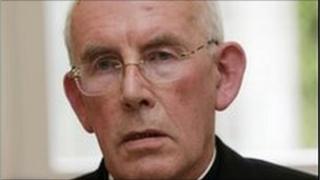 The leader of Ireland's Catholics, Sean Brady, has written to the Gaelic Athletic Association (GAA) in his archdiocese of Armagh calling on them to stop scheduling games at the same same as Sunday morning Mass.
It is believed Cardinal Brady wrote the letter after being contacted by priests concerned about the starting time of some games.
The correspondence was sent to the four county boards of Armagh, Derry, Tyrone and Louth.
The deputy editor of The Irish Catholic Newspaper, Michael Kelly, said the matter was becoming an "increasingly bigger problem at under-age games".
He added that priests had been "articulating this for the past couple of years".
"Most of the inter-county action happens on Sunday afternoons, sometimes Saturday evenings, but it is the under-age games that are tending to take place on the Sunday morning and when there aren't games there is sometimes training scheduled for Sunday morning," he said.
"Now in a large urban area where there are a lot of different Masses to choose from it is not really a problem, it is in a rural area where maybe there is only one Sunday morning Mass.
"It is difficult, because parents with young children who want to bring them to Mass are being forced to decide between bringing them to Mass or allowing them to play football and hurling.
"With the best will in the world, if you ask an 11-year-old young fella or girl what they want to choose, I don't think there will be much of a decision."
A Tyrone County Board spokesman told the Irish News the cardinal's letter had been received, but that no competitive county level fixtures were held on a Sunday morning.
The spokesman added that individual clubs were responsible for deciding when they held games or training.
The County Louth board said club games were played on Sunday mornings, but that its competitions control committee endeavours "not to organise fixtures at times that clash with parish activities, including Mass, throughout the GAA calendar".
It said there "may be a small number of occasions throughout the season where this may not always be possible".