Thousands of PMS savers receive cheques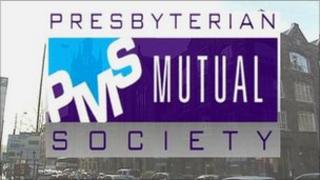 Thousands of people who lost access to money they had saved with the Presbyterian Mutual Society (PMS) have received cheques in the post on Tuesday morning.
It entered administration in 2008 and affected around 10,000 people.
A rescue package underwritten by the Westminster government and the Northern Ireland Executive was agreed in May.
It allowed for smaller savers, who invested less than £20,000 with the PMS, to get all of their money back.
Larger investors will receive 85% now with the remaining 15% dependent on the disposal of PMS properties and other assets.
Enterprise Minister Arlene Foster said the payouts, totally £232m, were a "significant milestone".
"The cheques issued today will ease the hardship caused to members of the society who were denied access to their savings," she added.
"Since the collapse of the PMS, I have dealt with hundreds of letters and emails from ordinary savers and I am well aware of the personal distress and anxiety which many have suffered."
Secretary of State Owen Paterson said: "I very much welcome the news that cheques are now being issued to those people affected by the collapse of the Presbyterian Mutual Society in 2008.
"This has been a very stressful and worrying time for a great many people, particularly the elderly who thought that their savings were gone forever."
The overall return to shareholders is based on a sliding scale depending on the size of their total holding in the society.
The minimum return that anyone will receive will be 77% of their total holdings.
Under the terms of the bailout, the Treasury in London has loaned most of the money to the Stormont Executive which will have to pay it back.
In turn, the executive has given the money to the PMS in administration which has refunded the 10,000 investors.
The PMS is then expected to repay the executive over the next 10 years from earnings on its assets - many of them in property.
The repayment plan hinges on one vital ingredient - there will have to be a significant improvement in the property market if it is to work.
If there is not, Northern Ireland taxpayers will end up paying towards the bailout of the PMS.