Margaret Ritchie to face challenge from Patsy McGlone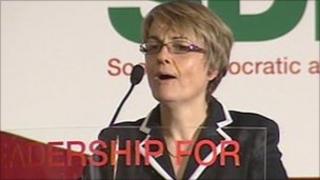 Margaret Ritchie is to face a challenge for the leadership of the SDLP from her deputy Patsy McGlone.
Ms Ritchie has been in the post less than two years but recent poor election results have prompted growing discontent within the party.
Mr McGlone's confirmation that he would stand follows weeks of speculation.
He said he had been encouraged to do so by friends and colleagues who shared his belief that "now is the time for change."
The Mid Ulster MLA said: "I am proud of my Irishness and proud to offer myself as leader of a party which represents an Irishness of inclusivity, regardless of race, colour or creed.
Strong leadership
"These core values, articulated by John Hume and Seamus Mallon, are precisely what attracted me to the SDLP in the first place.
"The SDLP has revolutionised Irish politics. The founding principles of the party are as relevant today as they were during the civil rights campaign.
"The unity of the people of Ireland, a unity built on trust, along with practical social democracy - being there for people through the good and bad times - lie at the heart of every SDLP member and supporter.
"The way forward for us needs three strategic elements: strong leadership, clarity of message and radically improved grassroots organisation. "
Ms Ritchie has already made clear she would contest any leadership challenge at the party's annual conference which take place this November.
"Anyone in the parliamentary assembly group is free to put their name forward if they get the nominations," she said last week.
"But at the end of the day, I am the leader."
There has been growing discontent in SDLP ranks since the party lost two assembly seats in May's elections.
Ms Ritchie replaced Mark Durkan as leader at the start of 2010.
Style criticised
She defeated the South Belfast MP Alasdair McDonnell by 35 votes.
The new leader overcame her first major challenge at the Westminster election of 2010.
She successfully defended the South Down seat, previously held by her mentor Eddie McGrady, and the party retained its other two Westminster seats.
However, during this spring's Assembly election campaign, Ms Ritchie's style and media performances came in for some criticism.
The divide between Ms Ritchie and her deputy Mr McGlone became clear when she passed him over for a ministerial job and he refused her offer of a Stormont committee chairmanship.