Man fined for Gregory Campbell Facebook comment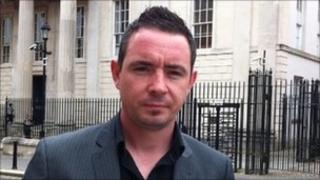 A 31-year-old chef convicted of posting a menacing message about DUP MP Gregory Campbell on Facebook has been fined £500 and given a suspended jail term.
Darryl O'Donnell a father of two from Belvedere Park, Londonderry, posted that Mr Campbell "should get a bullet in the head".
It followed comments attributed to Mr Campbell in June of last year about the Saville report into Bloody Sunday.
O'Donnell was given a five month jail sentence suspended for three years.
In his sentencing at Londonderry Magistrates Court, District Judge Barney McElholm said Mr Campbell was entitled to state his opinion whether or not people agreed with what he said.
The district judge said O'Donnell's comments were menacing and offensive and should not have been posted on Facebook.
He said O'Donnell who has 22 previous convictions, 11 of them for public order offences, did not come before the court with clean hands.
'Engage his brain'
Mr McElholm imposed another five month suspended sentence consecutively on O'Donnell plus a £200 fine when he admitted committing disorderly behaviour at Guildhall Square on 19 May.
Mr McElholm said when Mr O'Donnell opened his mouth he did not seem to engage his brain first and said that only for the fact that he had recently got a job he would be going to jail.
Following his Facebook sentencing O'Donnell said he was glad it was all over but added he had no regrets.
Commenting on the sentencing, Mr Campbell said: "I reported the comments to the police because of their menacing and threatening nature.
"Just as it is wrong to make such menacing comments against an individual using traditional communication tools it is equally wrong to make the comments through new media."