Man injured in work accident at JTI in Ballymena dies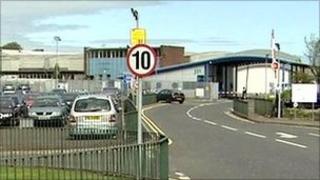 A man critically injured in an industrial accident in Ballymena on Monday morning has died.
It is understood a piece of machinery fell on the man as it was being serviced. It happened at the JTI plant in the town.
The Health and Safety Executive is investigating the circumstances.
In a statement on Friday it said: "Heath and Safety Executive NI has been informed by the PSNI that the injured party has passed away this morning."
The man's name has not yet been released.
The JTI plant was formerly the Gallaher cigarette factory.
District journalist Nicola Weir said: "I'm being told that the man was part of a team that was servicing a robotic arm used at the JTI plant.
"It appears that during the servicing this arm fell onto the man and trapped him on scaffolding."