Dollingstown FC case 'could go to European court'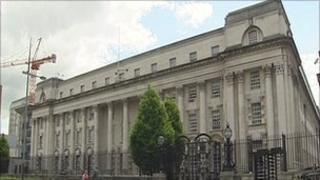 A legal row over a Northern Ireland football team being denied promotion could go all the way to the Court of Arbitration for Sport.
Dollingstown FC is challenging a ruling which prevents them playing in this year's IFA Championship League.
The High Court challenge is the first stage of their bid to have the ruling over the alleged ineligibility of a player overturned.
The club lost points after a protest.
This meant the Mid-Ulster League side were knocked from their table-topping position in the Intermediate A section.
Dollingstown FC, near Lurgan, went to the High Court on Friday in the first stage of their bid to have an independent arbitration panel ruling overturned.
The lawyer representing the club, Barry MacDonald QC said that as the Championship league starts next weekend "it would be preferable for all parties if the matter is resolved at the earliest opportunity".
Colin Gowdy, solicitor for the Irish Football Association (IFA), told the court the situation was not as urgent as it first seemed.
He set out how the 16-team Championship could get under way, with Dollingstown FC joining as a 17th team if their appeal succeeds.
Mr Gowdy said: "It's not the doomsday situation (first thought)."
The case has been listed for a hearing at the High Court next month.
However, it is understood that lawyers for the IFA, who are a notice party in the case, are examining jurisdictional issues.
One point being explored is whether the challenge should instead be taken to the Court of Arbitration for Sport in Switzerland.