Limavady fisherman Don McCloskey snares 300lb shark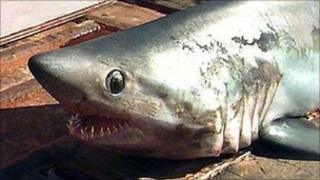 A Limavady fisherman has landed a 300lb (21.5-stone) shark off the Donegal coast.
The porbeagle shark was tagged and released back into the water.
Don McCloskey said it took four people to lift it onto his boat.
"It started off as just an ordinary fishing trip," he said.
"Me and my son Don decided to stick out two shark rods and within 10 minutes away it went, it just took off and it was hooked and I played it for an hour and 20 minutes."
"It was just a battle."
While it may not be a great white, porbeagle sharks usually reach about 8ft in length and have seriously sharp teeth.
Therefore, if you ever come into contact with one, it's best to keep away from the business end.
"Just your experience tells you how to work with them and just stay away from the dangerous end - always work with the tail," Mr McCloskey said.
"When we got it onto the boat at the start, everyone was diving out of the way.
"Once you get them on the boat you get a towel, wet it and put it over its eyes and you can work with them no problem."
Despite the size of the shark, Mr McCloskey said at no time was he tempted to take it home with him as a trophy.
"We measure them and weigh and tag them and then put them back," he said.
"I've been fishing now for 25 years and it's an absolute sin to kill something like that.
"If you see something like that in front of you on the boat, it's a masterpiece."