Margaret Ritchie: SDLP leader will fight 'any challenge'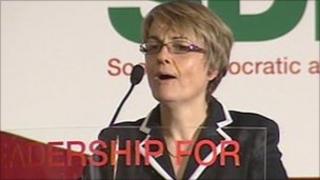 Margaret Ritchie has vowed to fight any challenge to her leadership of the SDLP.
Ms Ritchie is expected to face a challenge when the party holds its annual conference in November.
It is thought the party's deputy leader Patsy McGlone might be ready to formally declare his interest in the leadership as early as next month.
Ms Ritchie said on Wednesday night she would run for leadership again at the conference.
"Anyone in the parliamentary assembly group is free to put their name forward if they get the nominations," she added.
"But at the end of the day, I am the leader."
There has been growing discontent in SDLP ranks since the party lost two assembly seats in May's elections.
Ms Ritchie replaced Mark Durkan as leader at the start of 2010.
She defeated the South Belfast MP Alasdair McDonnell by 35 votes.
The new leader overcame her first major challenge at the Westminster election of 2010.
She successfully defended the South Down seat, previously held by her mentor Eddie McGrady, and the party retained its other two Westminster seats.
However, during this spring's Assembly election campaign, Ms Ritchie's style and media performances came in for some criticism.
The divide between Ms Ritchie and her deputy Mr McGlone became clear when she passed him over for a ministerial job and he refused her offer of a Stormont committee chairmanship.
The deadline for leadership contenders to nominate is mid-September but the BBC understands Mr McGlone could publicly declare his hand before that.
It is also thought that Mr McDonnell has not completely ruled himself out.