Injured Mournes walker in helicopter rescue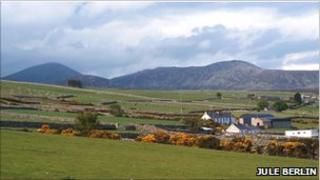 A walker, who was badly injured in a fall in the Mourne Mountains, has been airlifted to the Royal Victoria Hospital in Belfast.
Mourne Mountain Rescue, along with the coastguard and police, were involved in an intensive search to find the injured man on Wednesday.
He was located within a few hours with head injuries and broken bones. First aid was administered at the scene.
The man is said to be in a stable condition in hospital.
Richard Newell of the Belfast coastguard described the nature of the man's fall.
"We understand he has suffered a fall of possibly up to 40 or 50 metres, so we are talking about head injuries, possible broken bones and lacerations," he said.