Green MLA Steven Agnew steps down from council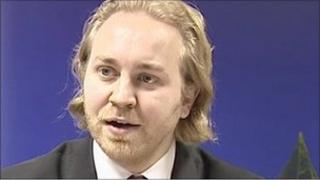 Green Party MLA Steven Agnew has announced he is stepping down from North Down Borough Council.
Mr Agnew said he was doing so to "focus fully on representing the people of North Down in the Northern Ireland Assembly".
He represented the Abbey Ward and will now be replaced on the council by Green Party activist Dr John Barry.
Mr Agnew said the party was fulfilling its manifesto promise not to engage in "double-jobbing".
"I was very clear prior to the election that should I be elected to both council and the assembly I would pass on my council seat to the best qualified person within the Green Party to represent the people of Abbey.
"I am very confident that Dr John Barry will be a strident political advocate for the area," he said.