Three men in a boat - rowing for the Olympics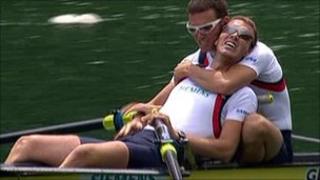 It seems remarkable that three men all from the same part of Northern Ireland share the aim of Olympic glory in London next year.
The Coleraine trio of Alan Campbell and the brothers Richard and Peter Chambers all are aiming for a shot at a gold medal.
Campbell, a single sculler, is hoping it will be a case of third time lucky.
He previously competed at the Olympics in Sydney in 2004 in the quadruple sculls, finishing twelfth.
He then went solo for gold at the 2008 Beijing Games.
He competed in the mens' 2,000m individual scull in China and was leading the field in the final for the first half of the race, only to be overhauled by the field and finish in fifth place.
It was a remarkable performance because he had picked up a virus the summer prior to the games and, after knee surgery, had been on crutches just a matter of weeks before competing.
He is determined to get it right in London next year: "It's looming on the horizon very quickly and when I think back to Beijing, it wasn't that long ago," he said.
"Everything we are doing now is in preparation and I'd give up any number of World Cup wins and this year's world championships just to make sure I could get on the start-line at London 2012.
"It is the absolute pinnacle - there is nothing close to it at all. I'll make every effort to make sure I go the quickest I can on 3 August next year - and that is pretty much my last thought when I go to sleep and the first when I wake up."
Two Coleraine brothers could also be going for gold in London. Richard Chambers is a two-times world champion as part of the mens' lightweight four crew.
Earlier this month, his younger brother Peter replaced the injured Chris Bartley for the World Cup event in Lucerne, which the four won by half a length.
Richard was delighted for the crew and, of course, his brother.
"I'm so proud of what he's done. To come into a boat that expects to win gold every time, that's a massive expectation on someone. He delivered a good performance. He supported us and we supported him - he's shown his maturity," he said.
Peter has not made the boat for the World Championships in September but at the weekend he won a gold medal as one half of the Lightweight Pair at the Under-23 World Championships.
The London Games may be coming just too soon in his rowing career but whether he is in a boat alongside his brother in the four or cheering him on from the lakeside, he will be dreaming of gold for the family and Great Britain in 2012.