Altnagelvin Hospital ward closes over vomiting bug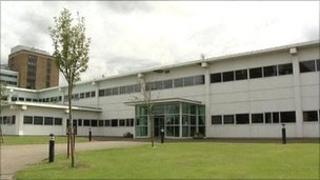 A ward at Altnagelvin Hospital in Londonderry has been closed to new admissions because of an outbreak of the vomiting bug, the Norovirus.
Ward 42 was temporary closed earlier this week. It's hoped it will reopen soon.
The Norovirus causes both diarrhoea and vomiting.
The Western trust has urged anyone who is unwell not to visit the hospital. Admissions at the Ulster Hospital have also been affected by the virus.
The Western trust has also issued guidelines to visitors surrounding hygiene.
It is the second outbreak of the Norovirus in a month at the hospital. In June, Ward 20 was closed.
The main symptoms of the Norovirus infection are sudden nausea, stomach ache followed by severe "projectile" vomiting and / or diarrhoea.
Symptoms usually begin between 12 and 48 hours after a person becomes infected.