Children of the Revolution: a book from the heart of the Troubles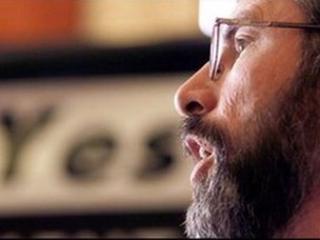 It is one of the untold stories of the Troubles - the lives of the sons and daughters of republicans and loyalists.
For years their stories have gone unheard, but a new book by writer Bill Rolston has given them a voice.
Published next week, Children of the Revolution, tells the stories of men and women, whose experiences of the Troubles are unlike any others.
"Some people were easy to find, others were harder," Bill explained.
"Some people were easy to persuade, again, some were harder. I hit a lot of dead ends and received the nicest of refusals from a number of people.
"In the end I gathered 20 stories."
Blood soaked
Although "no one story is typical" Bill said he did notice a number of common traits among the people to whom he spoke.
"These are not stories of victims. They are stories of survivors. Their resilience is remarkable, 'this is what life dealt me and this is what I am taking on board'.
"In some cases I discovered that they had rejected the parent involved. In other cases, they understood the parent's actions.
"But most were ambivalent. Not in the sense that they were confused, but they believed two things at the same time. Number one, 'I believe in what he or she did' and number two, 'look at how it fouled my life up'."
The book chronicles the lives of those from both sides of the divide - loyalist and republican.
John Lyttle, the son of UDA chief Tommy Lyttle, vividly describes a night from his childhood when he stumbled down the stairs for a glass of water, only to be confronted with a man tied to a chair.
"I remember the blood soaking this guy's vest," he said.
"My father stopped belting him to tell one of his 'men' to go and fetch me a glass of water. And this guy looking at me with absolute despair."
'Stupid and silly'
Another woman, unnamed in the book, speaks of her anger at her father Dan McCann's decision to join the IRA.
"To someone who is left to pick up the pieces it is a very stupid, silly thing to do. My brother and I never had the choice, we were never asked our opinion," she says.
"It is a terrible thing to impose on people. And it is imposed because that wasn't an accident, that wasn't a terrible disease - that was imposed, that was a choice."
McCann was shot dead by the SAS in 1988 in Gibraltar. However, the woman does not blame the soldier who took her father's life.
"If you want to be in the army whenever someone shoots at you, you shoot them back."
In another chapter Gearoid Adams describes his determination not to leave behind the same legacy as his father Gerry.
"A friend and I used to go socialising down the town in areas which would have been probably pre-dominantly Protestant, because nobody knew who I was," he says.
"I have three kids now. If they wanted to be politically involved, it is up to them. If they wanted to join up with the dissidents? Not a chance."
Children of the Revolution, published by Guildhall Press, is released on 28 July.