How Darren Clarke fulfilled his Open destiny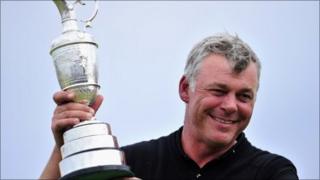 If Rory McIlroy's ascent to the top of world golf was as swift as a birdie at an easy par three, then Darren Clarke's has been the equivalent of a well-earned par on the longest hole on the course.
More than two decades since he started out on the European Tour, Darren's victory at the Open earlier this month marked the end of a difficult, at times distressing, trek.
While millions watched him walk up the 18th fairway at Royal St George's, BBC Northern Ireland presenter Stephen Watson has had exclusive access to the hours and days that followed his victory.
From the sleepless partying immediately after his win to the deeply emotional reunion with his two young sons back home on the north coast, Stephen and his cameramen and producer Gary McCutcheon were just a couple of steps behind.
Smiles to tears
First at Sandwich itself, where parents Godfrey and Hettie, fiancee Alison and manager Andrew "Chubby" Chandler greet Darren with flowing drinks and wide smiles at the edge of the 18th green.
Then at his manager's house, there are more cheers and celebrations with the claret jug never long out of the lens.
The smiles turn briefly to tears when Darren returns to Northern Ireland, embracing Tyrone and Conor, his boys by late wife Heather.
"As any parent would say, if you can make your kids proud, then that's what you will always try and do and that's what I managed," Darren said.
"My boys are the be all and end all - playing golf is fantastic but they're more important than any golf tournament."
From his current house on the north coast, the cameras follow Darren a short distance to the place where he plans a new home, a site with magnificent views of Royal Portrush and the Atlantic Ocean.
Big compliment
The stars pop in regularly throughout - both Rory and Northern Ireland's other major winner Graeme McDowell travel to Portrush to greet their friend and mentor.
Darren also reveals that he has been in touch with another big name since his victory - the man labelled by some as the greatest to have played the game.
"I think it was a big compliment that Tiger would take time out and tell me this is what you need to do to win - go about it this way," Darren said.
"I spoke to him on Sunday night and I definitely can't repeat exactly what he said - but he was very pleased for me and said I told you - which was wonderful."
Darren's Destiny is on BBC One NI on Tuesday July 26 at 2235 BST.