City Hospital A&E 'closure' - Edwin Poots defends plan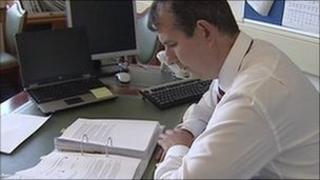 The health minister has defended proposals which could mean the end of accident and emergency services at Belfast City Hospital.
Edwin Poots said there was a particular issue over a lack of consultants at the City which had left a question mark over the viability of its A&E.
About 42,000 people visited the City Hospital's A&E department last year.
Mr Poots conceded that its closure could lead to a problem with infrastructure capacity.
Winter pressures
He said there was no issue with staffing levels since personnel at the City would move to the Royal Victoria Hospital.
But he said there could be difficulties over whether there was not enough room at the Royal to deal with the extra patients.
Proposals to close the City A&E will be discussed in the next couple of months with the doors potentially shut as early as October.
"The issue that we are discussing is that we have 25 cubicles in the Royal Victoria Hospital and if they are full, what do you do then?" Mr Poots said.
"That certainly is an issue that we need to look at particularly with the winter pressures."
The minister added that there was a strategic problem across Northern Ireland with too many hospitals and not enough junior doctors.
"It is not always your local hospital that is best to treat you. On some occasions, you will get a better service driving past the nearest hospital to the one that is best suited to your needs," he said.
Drop-in centre
The most recent figures from the Department of Health show that there has been a seven-fold increase in the number of people who have had to wait more than 12 hours for treatment at casualty departments in Northern Ireland.
Mr Poots said that he wanted action taken to reduce the number of people who went to A&E because they were unable to get an appointment with their GP quickly enough.
He said there was also a minority of people who treated A&E like a "drop-in centre".
Ulster Unionist MLA for South Belfast Michael McGimpsey and former health minister has called on the minister to postpone his decision until building projects at the Ulster Hospital and Royal Victoria Hospital had been completed.
"As minister for health, I warned that not enough money was being allocated to health to allow it to cope with demand."
He added that the move had been motivated by a focus on money rather than patients and would increase pressure on already stretched services.
Softening-up
Unite, the public sector workers' union, said Mr Poots' strategy was causing panic in south Belfast and greater Lisburn.
Its regional officer Kevin McAdam called on the minister to engage with communities "to demonstrate that better facilities will be available to accommodate the additional pressures on the Royal and Mater sites."
"We are concerned that this announcement is more about softening people up ahead of closure of one more A&E service in the greater Belfast area using the argument that a lack of junior doctors makes the service unsafe," Mr McAdam said.
Meanwhile, DUP MP Jeffrey Donaldson has expressed his concern at plans to reduce A&E opening hours at Lagan Valley Hospital in Lisburn from August.
Health officials have blamed a lack of junior doctors for the need to close the unit overnight.
Mr Donaldson said he feared it could be the first step towards closing the hospital's emergency department permanently.
He added: "What we don't want to see is the accident and emergency department at Lagan Valley being closed which will then result in more pressure being piled on to the already overstretched A&E units in Belfast."
Open secret
The chief executive of the Health and Social Care Board John Compton has stressed that the current plans are not motivated by financial pressures.
He said it was an "open secret" that the pattern of emergency care needed to change across Northern Ireland and that this was "the beginning of the debate".
But he added that there would be careful consideration before any proposals were implemented.
"We want to test to absolute destruction that we have the right way of handling that at the remaining accident and emergency departments."
The Patient and Client Council said their feedback suggested people often go to A&E departments because they were not confident about accessing GP services.
"It is important that the public are involved in the decision making process and that any changes are discussed with patients and their families so they can help shape the future of these important health and social care services," it said.