C. diff outbreak in SE Trust area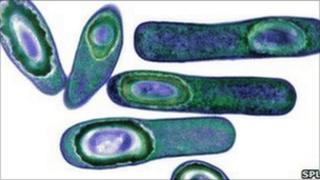 A number of cases of the clostridium difficile bacterium have been identified in the South Eastern Trust area.
The trust said there were seven c. diff cases in total, including one c. diff 027 case at the Ulster Hospital.
The 027 strain of c. diff is described as a virulent strain of the virus, producing 20 times as much toxin as other strains of the bacterium.
The trust said the cases had led to enhanced cleaning measures.
Earlier this year, an inquiry into a c. diff outbreak in the Northern Trust area concluded that it was linked to 31 deaths in 2007 and 2008.
There has also been an outbreak of the vomiting bug novovirus at the Ulster Hospital.
The trust said up to 50 patients and staff have been affected with vomiting and diarrhoea, though these may not all be confirmed as being Norovirus.
The virus is present in four wards, but just one has been closed to new admissions because of increased incidences of vomiting and diarrhoea.
It is a medical ward so there have been no cancelled operations.