Hoodie havoc among bird life on Bangor harbour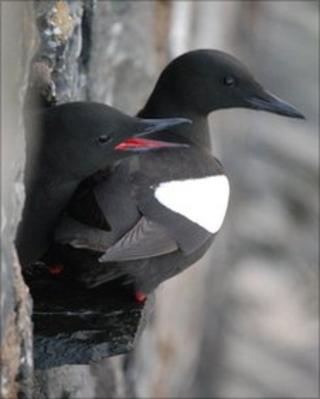 For one hundred years black guillemots have made their homes around Bangor harbour.
The little auks with their distinctive black and white plumage and bright red legs, feet and throats have been fondly nicknamed "Bangor penguins" by residents.
Unlike penguins, the black guillemots can fly - a frantic skittering across the waves as they head for their nests in the breeding season.
The rest of the year they excel at bobbing about on top of the water before diving deep beneath Belfast Lough, streamlined and efficient in their hunt for butter fish - those slippery little creatures children find, but can't catch, in rock pools.
This year, however, the nesting holes around the piers are mostly empty. The breeding pairs have lost eggs and chicks to a clever predator - the hoodie, or hooded crow.
Raucous and wily, the hoodies are small in number, but their thefts from the guillemot nesting holes have almost completely wiped out this year's brood.
Dr Julian Greenwood of Stranmillis College has studied the black guillemots in Bangor for over 30 years. He rings and records the birds which have made their homes in convenient crevices around Bangor Bay and in the holes specially created by North Down Council in the piers when the harbour area was redeveloped.
Dr Greenwood is also chairman of the Northern Ireland RSPB committee, so he understands that the hooded crows are behaving true to type.
"Often there's been the odd egg or chick which has disappeared but this year it's been extraordinary. It's been a virtual wipe-out," he explained
"It's part of nature and usually with predators they don't have a huge effect on the animals that they're predating upon, but in this particular example they are having that effect and it's just unfortunate."
Oldest ever recorded
The harbour may not see many fledglings this year but Dr Greenwood has a plan which he hopes will thwart the hoodies next spring. Small pieces of marine plywood across the entrance to the nesting holes should reduce the access for the crows while ensuring the guillemots can still fly in and out.
It's ingenious and cheap and Dr Greenwood hopes to work with the marina authorities to protect the guillemots but the plan won't be executed until later in the summer.
That's when the little birds have abandoned the holes to feed and change their plumage further out in Belfast Lough.
There's still some time for landlubbers to admire the "Bangor penguins". Keen photographers who snap a bird may even be lucky enough to capture an image of the oldest black guillemot ever recorded in the British ringing scheme.
She's 23-years-old and as the letters on her ring are RV, Julian has named her after his middle daughter, Ruth Victoria.