Portadown violence - three arrested in overnight riots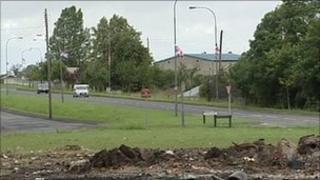 Three people have been arrested following rioting in Portadown, County Armagh, on Friday evening.
The trouble came after what police said was a planned peaceful protest about the alleged removal of flags. But elements in the crowd turned violent.
A crowd of about 70-100 people threw 12 to 15 petrol bombs as well as bricks, fireworks and bottles in the loyalist Corcrain Road area.
The rioters attacked police land rovers with sledgehammers.
In reply, police fired 19 plastic baton rounds.
Local nationalists said their homes across the peaceline were a target. Meanwhile, the police said there was no evidence paramilitaries were involved.
Police Superintendent Jason Murphy said: "We should be very clear in our condemnation of the rioting and the serious violence that we saw last night.
"We should also outline that the only people who suffer here are the unionist community in Corcrain and the nationalist community in Obin Street."
Local people said the violence flared after loyalist flags were removed close to a peace line.
Police said a planned peaceful protest had been hijacked by a minority.
Upper Bann MP David Simpson, DUP, said such violence served to disrupt and deface the area.
"I know many elderly people living in the area where living in fear last night and did not endorse this violence. Such scenes must be condemned," he said.
Mayor of Craigavon Councillor Alan Carson condemned the violence and appealed for calm.
"This does not do anyone any good," he said.
"People have a right to live peacefully and feel safe in their own homes. The violence we witnessed last night was something that we had hoped we had assigned to the history books.
"I would appeal to those members of the community to respect the law and not to take their frustrations out on innocent members of the public."
John O'Dowd, Sinn Fein, said a number of foreign national families fled their homes in the trouble.
"They packed their bags, so distressed were they at the violence," he said.
"Their neighbours tried to reassure people that they would be safe in their homes but they left."
Alliance councillor Sheila McQuaid said: "I am disgusted at the activities of those involved in this disorder. I would appeal for people to act responsibly.
Both sides in Portadown have appealed for calm.