Irish politician apologises for Miss Piggy remark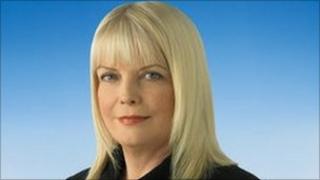 An Independent politician in the Irish parliament has apologised for referring to a female colleague as Miss Piggy.
Colourful Wexford TD Mick Wallace said he was sorry for offending Fine Gael TD Mary Mitchell O'Connor.
Mr Wallace, a property developer, apologised on RTE radio on Wednesday for comparing a colleague to the Muppet character.
He told listeners his remarks were "in bad taste" and "completely out of order".
Dress sense
Mr Wallace said he contacted Ms Mitchell O'Connor, TD for Dun Laoghaire-Rathdown, by telephone on Wednesday and apologised.
Mr Wallace has already drawn attention to himself in the Dail with his colourful dress sense.
However, his penchant for open-neck sports shirts, generally pink, may be curtailed if the Dail follows through with plans to introduce a dress code.
If the new regulations are approved as expected, they mean a ban on denims and would entail male TDs being obliged to wear business clothes.
Mr Wallace has already objected to the possible sartorial changes pointing out that he does not own a tie.