Ballyclare rioting: PSNI apology over way flags removed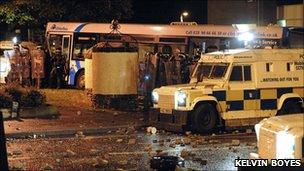 Police have apologised for the way flags were removed in Ballyclare ahead of trouble on Saturday night.
They are to carry out a review of how they handled the situation.
Trouble flared after Union and paramilitary flags near a Catholic church were taken down.
Six officers sustained whiplash when a hijacked bus was used to ram a police vehicle. Other cars were hijacked, set alight and used to attack police lines.
Police deployed water cannon and baton rounds were used after petrol bombs and missiles were thrown by loyalists.
There was also violence in Carrickfergus and Larne.
Assistant Chief Constable Alistair Finlay said he had held discussions with "elected representatives and others" on Sunday.
"There's a standard flags protocol, there are actually some local arrangements in place in that area.
"They reported to me that they didn't feel those local arrangements had been handled in the same way as in the past and were disappointed about that.
"I expressed my regret that they felt we had not handled that issue in the way they would have hoped and undertook to review that."
There had been a local agreement in place on how to deal with contentious flags between the police and loyalist community representatives in Ballyclare and Newtownabbey for the past three years.
However, a new police commander moved into the area three weeks ago.
Loyalists have said he broke the agreement when he ordered officers to remove a number of flags.
However, ACC Finlay said this did not excuse the violence that ensued.
"There is no reason for people to steal their neighbours' cars, torch them and somehow try to connect that back to a dispute with police about how flags were removed," he said.
Flags have been removed peacefully in previous years following negotiations between police and community leaders.
Justice Minister David Ford said the decision made by the police was "right" and in keeping with protocol.
"They bear no blame for what happened on Saturday night. The blame lies entirely with those who caused fear and mayhem in Ballyclare," he said.
The flags protocol was agreed before justice and policing powers were devolved to Northern Ireland in April 2010.
Mr Ford said the protocol would be reviewed by a Northern Ireland Executive sub-committee in the next few days.
He said the protocol had been established by the Northern Ireland Office, in conjunction with a number of agencies including the departments of social development (DSD) and regional development (DRD).
Questioning the stance of the DRD he said it was ironic that Roads Service took action against people who put up leaflets on lamp posts, but seemed "unwilling to take action against people who put up flags of illegal organisations, that's why the police had to get involved".
DUP MP Sammy Wilson said the violence was an "over reaction" and that the trouble was "orchestrated" in an attempt to "spread police resources".
He did, however, say the removal of the flags could have been handled "more sensitively."
ACC Finlay said there had been "some degree of organisation" in the violence.
"The disorder that broke out in Carrickfergus seemed to us a result of some degree of contact between the people engaged in Ballyclare in seeking to distract police to another site."
He also said that while 11 and 12 July made exceptional demands on the PSNI, the resources were in place to deal with it.
Related Internet Links
The BBC is not responsible for the content of external sites.