Brendan Gleeson secures funds for Flann O'Brien film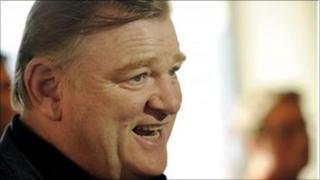 Actor Brendan Gleeson has secured funding to make a film of Irish writer Flann O'Brien's masterpiece At Swim Two Birds.
Gabriel Byrne, Colin Farrell and Cillian Murphy have all been linked to the new film.
The deal was sealed over the weekend at the Galway Film Fleadh.
The signing of a movie co-production treaty between Ireland and Luxembourg is expected to plug a hole in the 7.5m euros (£6.6m) project.
Gabriel Byrne who is Ireland's cultural ambassador said the agreement would ensure the film's release.
"What exciting possibilities will be born out of this exciting co-production treaty including the film At Swim Two Birds, to be directed by the visionary Brendan Gleeson, which I have no doubt will find a world-wide audience," he said in a letter to Arts Minister Jimmy Deenihan.
At Swim Two Birds was first published in 1939. It was written by Brian O'Nolan, under the pseudonym Flann O'Brien, it tells the tale of an adolescent boy whose fictional characters rebel against him.
Gleeson adapted the novel for the big screen along with Irish production company Parallel Films and Luxembourg-based producer Jani Thiltes.
They are still seeking some private investment and production is expected to start next year.
While a location has not been finalised, they are aiming to shoot in Ireland. Both the Irish Film Board and Film Fund Luxembourg have offered support.
Mr Deenihan, who signed the deal in Galway, said the film treaty between Ireland and Luxembourg would help film-makers tap into incentives and subsidies from both countries, as well as private finance.
"Co-production is of vital importance to the financing of the majority of Irish films and television production in Ireland, as well as to the overall growth of the industry," he said.
"For a country the size of Ireland there is no better way in which to raise international investment for projects of scale and it is fundamental to the way the industry is structured.
"Luxembourg has proved to be a very supportive partner to Ireland and we look forward to working together on many Irish and Luxembourg films."