Orange Order march on Garvaghy Road re-routed again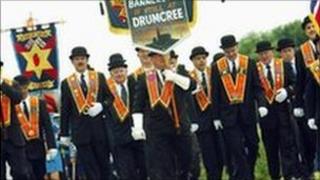 Sunday's Drumcree Orange parade has again been re-routed away from the Garvaghy Road in Portadown by the Parades Commission.
The determination states that the return parade from Drumcree Church back to Portadown town centre cannot process through the nationalist area.
It must either return by its outward route or disperse at the church before 1430 BST.
The Commission has also placed a number of other conditions on the parade.
It has put responsibility on the organisers to make sure it starts and finishes on time, does not have any undue delays, and has enough stewards.
Restrictions have also been placed on a protest in Ardoyne on 12 July by the Greater Ardoyne Residents Collective (GARC).
'Disgusted'
It had applied for permission for 200 participants to march from Berwick Road, Estoril Park, Crumlin Road and Brompton Park between 1900 and 2100 BST.
That is the same time Orange bandsmen are due to return from demonstrations across the city.
The commission has prohibited the march from travelling along part of the route near Crumlin Road.
It said it realised the "decision will not be accepted by all as the best solution", but said it was necessary because of the threat of street violence.
GARC spokesperson Martin Og Meehan said he was "disgusted" at the determination.
He called on opponents of the parade to register their opposition in a "calm, dignified and peaceful manner".
Meanwhile, an Orange Order parade in Country Fermanagh has passed off without incident.
Up to 20 bands including the Newtownbutler Border Defenders marched along the streets of the town, but were not allowed to pass through its centre.
The marchers were kept well away from protestors made up of Republicans and residents.