NI internet users making the broadband switch-over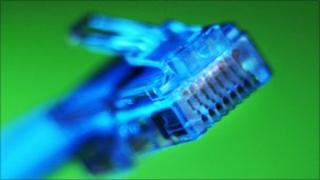 It might be slow, but people in Northern Ireland have still been switching over to broadband internet in their droves.
Ofcom, the company that regulates communication has published a map showing broadband speeds in different council areas right across the UK.
They give everywhere a grade from one to five by combining information on sync speed, whether super fast broadband is available, and how popular broadband take-up has been.
Perhaps not surprisingly Belfast comes out top in Northern Ireland. It gets a number one rating along with most other major UK cities.
Newtownabbey, Ards, and Castlereagh all get a number two ranking.
Everywhere else gets a three or four, but when you look at the detail that is mainly because of slow sync speeds. Most people know the frustration of having to work at less than 2Mbps when you are trying to get something done.
However, it turns out that slow connection speeds are not putting people off taking up broadband.
In Fermanagh, which has the lowest sync speed in Northern Ireland, 60% of the homes and businesses have switched to broadband, which is exactly the same amount as in Belfast.
Despite the sluggish connection speeds we are still not operating at quite the snail's pace that some areas of rural Wales and Scotland are stuck with.
You can click on the link to the Ofcom map to find out what the connection's like in your area.