NIPSA to protest against Nelson McCausland comments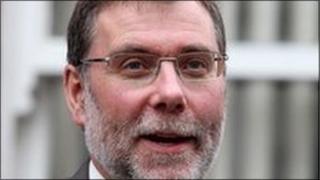 The NIPSA union will stage a protest at the Department of Social Development offices later on Wednesday.
Alison Millar, NIPSA deputy general secretary, said the protest was in response to comments made by Social Development Minister Nelson McCaulsand.
Mr McCausland has launched an investigation into the management of maintenance contracts at the Northern Ireland Housing Executive (NIHE).
He said he had evidence NIHE had double charged and overcharged work.
This involved more than one executive district and more than one contractor.
Speaking on Good Morning Ulster on Tuesday, Mr McCausland said: "Since coming into the Department of Social Development, I have been very concerned about the management and monitoring of Housing Executive maintenance contracts.
"I have organised an independent forensic investigation to be carried out of the way in which contracts have been managed and monitored.
"There has been internal investigations at a certain level by the NIHE, in addition to one particular piece of external investigation, but I think that is important for the confidence that we need to have in the organisation that there is full forensic investigation."
Ms Millar said: "It is absolutely outrageous that minister McCausland seeks to articulate any concern he may have through the media and the airwaves.
"NIPSA do not accept there was either collusion or incompetence and the minister's statement is an unwarranted attack on hardworking Housing Executive employees.
"I received many phone calls from our representatives in the Housing Executive on Tuesday who are very concerned, and they all believe that they are being tarred with the one brush."
Ms Millar said NIPSA had "no alternative" but to hold a public protest to defend its members and to make clear to the minister how unhappy employees of the Housing Executive were.
She said she would be writing to Mr McCaulsand calling for him to publicly retract his comments.