Alex Attwood wants NI Executive to discuss Red Sky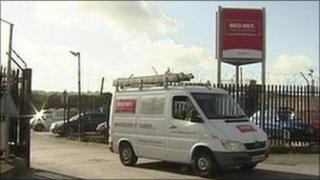 The environment minister has asked for the issue of Belfast property repairs company Red Sky to be discussed by the Stormont executive on Thursday.
The Housing Executive ended its £8m repairs contract with the Belfast firm in April over overcharging allegations.
However, Social Development Minister Nelson McCausland has since asked it to reinstate Red Sky until a new system for awarding contracts is introduced.
Environment Minister Alex Attwood said he could not understand this.
Mr Attwood, who is the former housing minister, said the decision he took to terminate the Red Sky contract was after "a fully independent and forensic investigation".
"I am taken aback that less than two months after becoming social development minister, the new minister has instructed that the Red Sky contract is reinstated and extended," he said.
"For this to hold water, there must be compelling new information that could lead to a conclusion so openly at odds with my understanding of the facts."
Concerns
He said he had tried several times to meet Mr McCausland to discuss the meeting but had not been able to do so.
Mr McCausland has launched an investigation into the management of maintenance contracts at the Housing Executive.
The housing body held an emergency board meeting on Tuesday morning to discuss the minister's request to overturn its decision to end its contract with Red Sky.
Shortly after the contract with the Housing Executive ended, the firm went into administration.
In a paper circulated to board members - obtained by the BBC - the executive said it feared that senior management at Red Sky had mounted a buyout of part of the company and would reinherit the contracts.
It also raised concerns about meetings held between Mr McCausland, First Minister Peter Robinson and other DUP elected representatives with the former senior management at Red Sky.
The Housing Executive asked whether these meetings constituted canvassing and lobbying for government contracts in breach of public procurement principles, and codes of conduct in public life.
It described Mr McCausland's intervention on the issue as "incomprehensible".
Earlier, Mr McCausland said he had evidence to show that there had been double charging and overcharging for Housing Executive work.
He said it involved more than one executive district and more than one contractor.
Robust
Speaking on Good Morning Ulster on Tuesday, Mr McCausland said: "Since coming into the Department of Social Development, I have been very concerned about the management and monitoring of Housing Executive maintenance contracts.
"I have organised an independent forensic investigation to be carried out of the way in which contracts have been managed and monitored.
"There has been internal investigations at a certain level by the NIHE, in addition to one particular piece of external investigation, but I think that is important for the confidence that we need to have in the organisation that there is full forensic investigation."
In a statement, the Housing Executive said it had "carried out robust investigations before taking the decisions which have led to the current position in relation to the Red Sky Group".
The executive ended all its repair contracts with Red Sky after it carried out an investigation into its work practices which included allegations of overcharging, which the firm has always denied.