Edwin Poots pledge on suicide prevention funding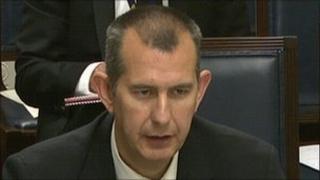 Health Minister Edwin Poots has pledged to protect funding for suicide prevention services.
Mr Poots made the commitment during a visit to the Suicide Awareness and Support Group (SA&SG) in west Belfast on Tuesday morning.
"I believe frontline preventative services that respond promptly and effectively when people are suicidal remain essential," he said.
"I have therefore given a commitment to protect suicide prevention funding."
Mr Poots said suicide was inextricably linked with deprivation, with rates twice as high in deprived areas and the gap continuing to widen.
"The west Belfast constituency, which includes Twinbrook and Poleglass, has a population of over 87,000 living in some of the most socially and economically disadvantaged wards in Northern Ireland.
"It experiences disproportionately higher rates of suicide, with some 26.1 deaths per 100,000 persons in 2007-2009 compared to the Northern Ireland average of 14.7 deaths."
The minister paid tribute to the SA&SG for providing support for families and individuals bereaved through suicide over the last ten years.
"I also want to thank SA&SG for its work within the Colin area particularly in response to the tragic deaths in that part of greater west Belfast over the past 15 months."